VILLA DIVINA
---
Built in a verdurous property of 14 acres, Villa DIVINA invites you to enjoy privacy, the unique view of the blue and green, and direct access to the crystal blue waters of the sandy beach. A stone villa suitable for couples, families or groups, harmoniously combining quality, luxury of the modern with respect to tradition and the environment, is the key to a unique proposition of prosperity, privacy, good living, relaxation and regeneration.
Villa DIVINA, tastefully decorated and quality, has 3 bedrooms, each with its own bathroom and signature of the white goods of the well-known Guy Laroche company, and a spacious living room which is an open space with a fully equipped kitchen, where you can create your own recipes. The swimming pool with the jacuzzi on the outside of the villa allows you to enjoy moments of relaxation while the surrounding pool area is the best choice for romantic dinners or unforgettable evenings with your family.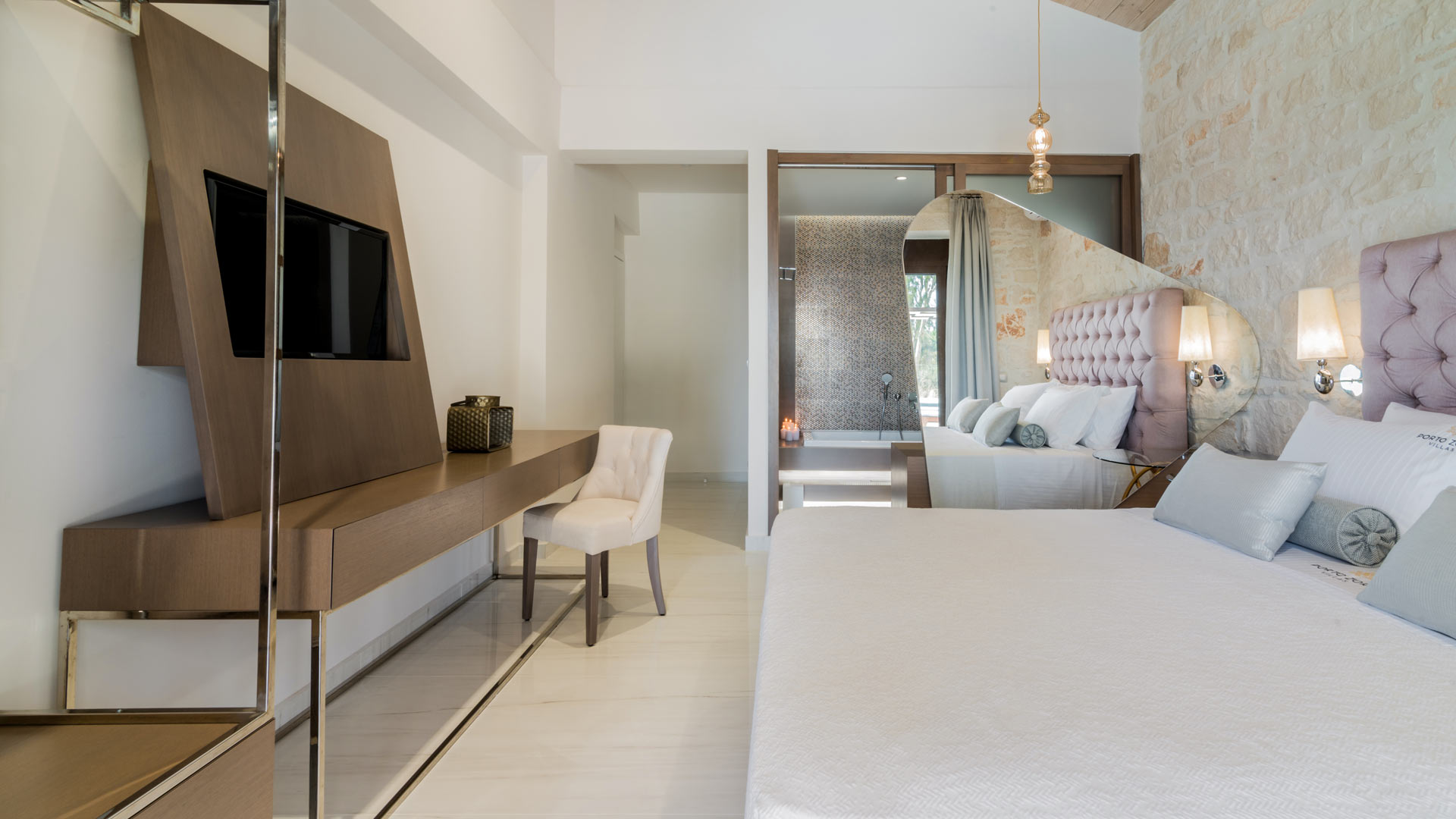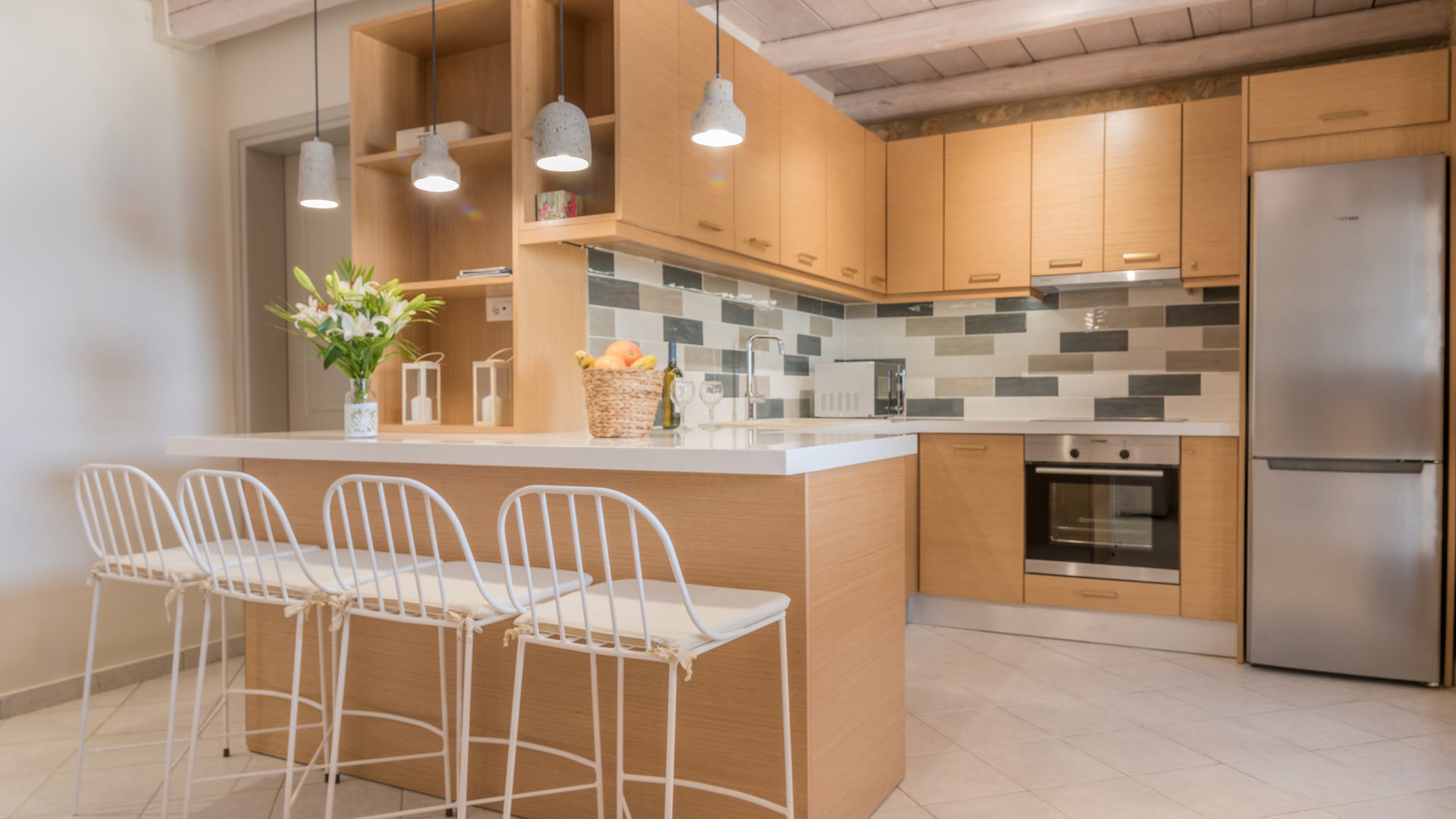 VILLA JULIA
---
Villa Julia is the second residence of Porto Vasilikos Villas and is located on the sides of the beach. Fully renovated and decorated with modern aesthetics and style, Villa Julia is the perfect choice for couples or families and its owners promise you an unforgettable experience for rest and relaxation.
The building is built on a cliff and right in front of it lies Porto Zoro beach and the endless blue of the Ionian sea. Enjoy the magical view, the blue-green waters with the gold sand,a natural clay cake spa located on the edge of the beach and have a good time enjoying fully organized beach bars for a meal or drink. Experience the hospitality of Porto Vasilikos Villas that will make you unforgettable.
ZAKYNTHOS
---
Zakynthos, known internationally with the name "Tzante" (Zante), or Fior di Levante (= Flower of the East) according to the Venetians, is the third largest island in the Ionian Sea. According to mythology, Artemis, the of goddess of hunting, used to wander in the green forests of Zakynthos while her brother Apollo played the lyre under the daffodils to commemorate the beauty of the island, while Homer himself refers to the, praising wooded, green landscapes.
An island with natural beauty, Italian influences, rich history and culture and the birthplace of great poets and writers, Zakynthos is rightly the jewel of the Ionian Islands.
PORTO ZORO
---
The area of Basilikos includes a long coastal area that extends at length at the south-eastern side of island. It features many picturesque and sandy beaches. All the beaches of this side of island are impressive and easily accessible. The rich vegetation reaches in may occasions the sea. Successively there is the beach of Kamina, the Porto Zoro Beach, the Ionian beach, the Banana beach, the Aghios Nikolaos and the Porto Roma beach. In almost all of them operates a small Taverna or a beach bar.
Porto Zoro beach is located 13 kilometres from the capital of Zakynthos and offers visitors a unique swimming experience at a peaceful environment away from the noisy crowds at the centre of the island. This beach has beautiful crystalline waters and lush green surrounds that impress every visitor. It is definitely one of the finest